The Rheuma-Lupe is a program we developed for Dr. Olaf Minét and Urszula Zabarylo who work at the Study Group Medical Physics and Optical Diagnostics at Charité Berlin.
In the project, the IPCU had to analyze laser scatter images of finger joints. Beside the implementation of an exposure correction algorithm for the system, the IPCU developed a program to visualize the severity of specific optical properties that might indicate a beginning rheumatic arthritis. Another feature of the program is that it registers the acquired laser images onto the patient's x-ray images.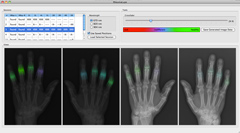 The algorithms of the applications were prototyped and tested in Wolfram Mathematica and later implemented in C/C++ with a QT user interface. Some parts of the implementation are parallelized with OpenMP and the Intel threading building blocks. The program itself is closed source and not available for download.